In this article we can see how to disable bloatware Apps in an Android Smart phone or a tablet. Except for very few phones, almost all Android Smart Phones and Tablets are pre-loaded with tons of bloatware Apps that may me of no use to most of the users.
These bloatwares may run in background and consume a lot of resource of device even though you have not manually started them. Most of these apps would be designed to auto run on start and they keep running whether you use it or not. This eventually drains your battery and would force you to charge your mobile frequently.
Note:
Not all the apps have options to disable them. If it's a System App like Google Maps, you can't disable or Un-Install that App in a normal Smart phone. Still this can be done if your mobile is rooted.
This article
explains how to have better control of Apps in your rooted Android device. If you are confused to root or not to root then refer
this article
. If you have made up your mind to root your Android device then
read this
to know how to easily root your device.
Follow the below steps to disable Apps in your Android Smart Phone or Tablet
1. Open the App Drawer and select "Settings" App from the list of Applications.
2. Select "Application manager"
3. Slider the Tabs and Navigate to "All" Apps tab
4. Select the App you wish to disable. For this demo I have selected Yahoo! News App, which comes along with Samsung Galaxy Note.
5. This opens the "App Info" Page of the App. Press the "Disable" button to disable this App. This would Show a Message Box to confirm the selected Action. Press "OK" to disable the App. This would disable the App and changes the text of "Disable" button to "Enable" if the App is successfully disabled.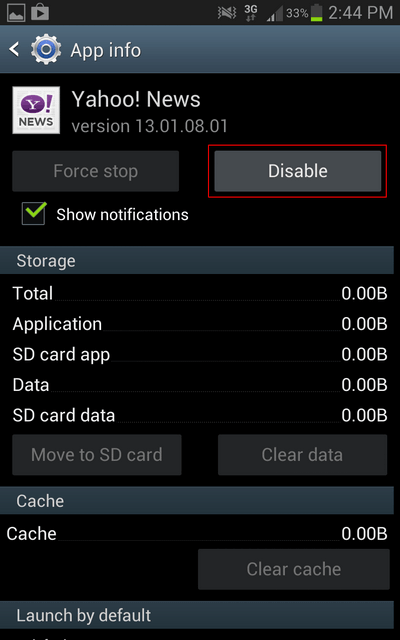 6. To re-enable follow the same steps and press the "Enable" button to bring back that App.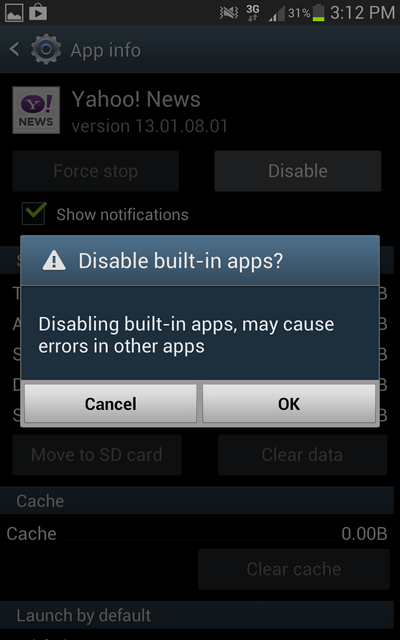 Note: Once the App is disabled it will be hidden from the App Drawer and will be listed at the bottom of "All Apps" list in Application Manager